Choose any 3 items – $6 per guest.
Lemon Bars
A refreshing treat! A lemon filling freshly baked on top of a flaky crust then dusted with powdered sugar.
Cheesecake
Thick New York style cheesecake with a buttery graham cracker crust and your choice of a topping: Strawberry, Mixedberry, Lemon, Cherry, Blueberry, or Turtle (Chocolate, Caramel and Nuts).
Brownie a la Mode
A freshly baked brownie loaded with chocolate chips, topped with a scoop of vanilla ice cream and drizzled with chocolate or caramel sauce.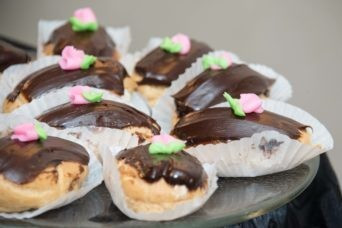 Fruit Pie
Delicious fruit pie topped with a dollop of whipped cream, or for an additional .50, a scoop of Leatherby's vanilla ice cream may be added. Flavors: Apple, Cherry, Blueberry, or Razzleberry.
Chocolate Éclair
A yummy puff pastry filled with vanilla custard, covered in chocolate fudge and topped with an icing rosebud in your choice of color.
Strawberry Shortcake (seasonal)
A fluffy slice of angel food cake topped with fresh strawberry sauce and a dollop of whipped cream.
Pumpkin Pie (seasonal)
A rich slice of pumpkin pie topped with a dollop of whipped cream and a sprinkle of cinnamon.
Cinnamon Roll
Swirled with cinnamon and brown sugar throughout with a spread of cream cheese icing on top.
Additional Dessert Options
Starting at $4 per person
Your guests are sure to love this buffet! We serve Leatherby's Famous Ice Cream for $4.15 per person for 200+ guests! Your Choice of four ice cream flavors, served with sundae toppings. Flavors include, but are not limited to: Chocolate, Vanilla, Strawberry, Rocky Road, Butter Pecan, Almond Joy, Chocolate Mint and Cookies 'n Cream.
Your choice of six toppings:
Chocolate, Carmel & Strawberry Sauce, Chopped Almonds, Whip Cream, Maraschino Cherries, Crushed Oreos, Chopped Reese's Peanut Butter Cups, Chopped Snickers, Crumbled Butterfinger, Crumbled Heath Bars, M&M's, Reese's, Pieces and Gummy Bears.
Additional Toppings . 20 each per person.
$6.00 per person for 124 guests
Nothing is more tempting than a grand flowing tower of Belgian chocolate! Our chocolate fountain is fully managed by a professional chocolate technician to ensure cleanliness. Your choice of 3 fruit and 3 dry dippers and milk, dark or white chocolate. Dipping items include, but are not limited to: Strawberries, Bananas, Pineapple, Apples, Kiwi, Marshmallows, Pretzels, Biscotti, Brownies, Rice Krispie Treats, and Cream Puffs .
Add a chocolate fountain to any of our other buffets for only $5.25 per person.
Light Dinner Buffet
$10.00 per guest max of 180 people
Simple yet completely satisfying, this buffet is perfect if you want to offer your guests a light meal. Includes croissant sandwiches (Turkey & Provolone or Ham & Cheddar, a Vegetable Tray with Dip, your choice of salad – Garden, Caesar, or Spinach with Craisins & Almonds) and Mini Éclairs.
Additional Options: Fruit Tray $2.00 per person (seasonal), 2nd Salad Choice $1.50 per person
Soup and Salad bar

$12.00 per guest max of 100 people
with an assortment of toppings and dressings and dinner rolls. Soups: Classic Chicken Noodle, Chicken Tortilla, Minestrone, New England Clam Chowder, or Creamy Potato Bacon.
Substitute Petite Turkey Croissant Sandwiches for the dinner rolls for an additional $1.00 per person.
Lasagna Dinner
$10.00 per guest max of 100 people
A hearty serving of layered noodles, meat sauce and hot melted cheese are accompanied by Caesar Salad and a Garlic Bread Stick.
Addon Items
With initial buffet order
Fruits & Veggies
Add to any of the above buffets
Fruit Tray (seasonal) – $2.00 per guest Veggie Tray – $2.00 per guest
Desserts
Add to any of the above buffets
Mini Éclair – $12.00 per guestLarge Éclair – $3.00 per guestStrawberry Cheesecake – $3.00 per guest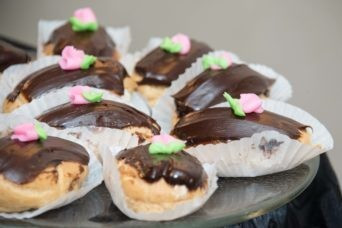 Salads
Pasta Salad – $3.00 per guestGarden/Caesar/Spinach Salad – $1.50 per guest